Anyone who's ever tried to put together a family budget knows that it's no easy task.
Every family is so different, it's difficult to give a standard example of expense categories for a monthly budget.
What one family considers important might not be on another's radar, and everyone makes different amounts of income, adding to the differences.
Keep in mind that low income and high income households have vastly different budgeting techniques.
A large percentage of a low income household's income is spent on necessities, and a high income household may have additional expenses that a lower income household would never incur.
Regardless of where your income level falls, I hope this is a great starting point for a realistic budget for your home.
Creating and actually following a budget has made the biggest difference in our financial stress level.
My husband and I used to worry about money, but now that we know exactly where our income goes each month, we feel more at peace with our finances.
I wish the same for you!
Monthly Household Expenses List for a Basic Family Budget
To help my readers get started with budgeting, I wanted to provide a universal list of household expense categories for an average American family.
It's the list I used when we needed to create a budget in anticipation of having our first child.
If you would like it, feel free to download my free monthly expense spreadsheet that starts with the same normal household budget expenses listed below.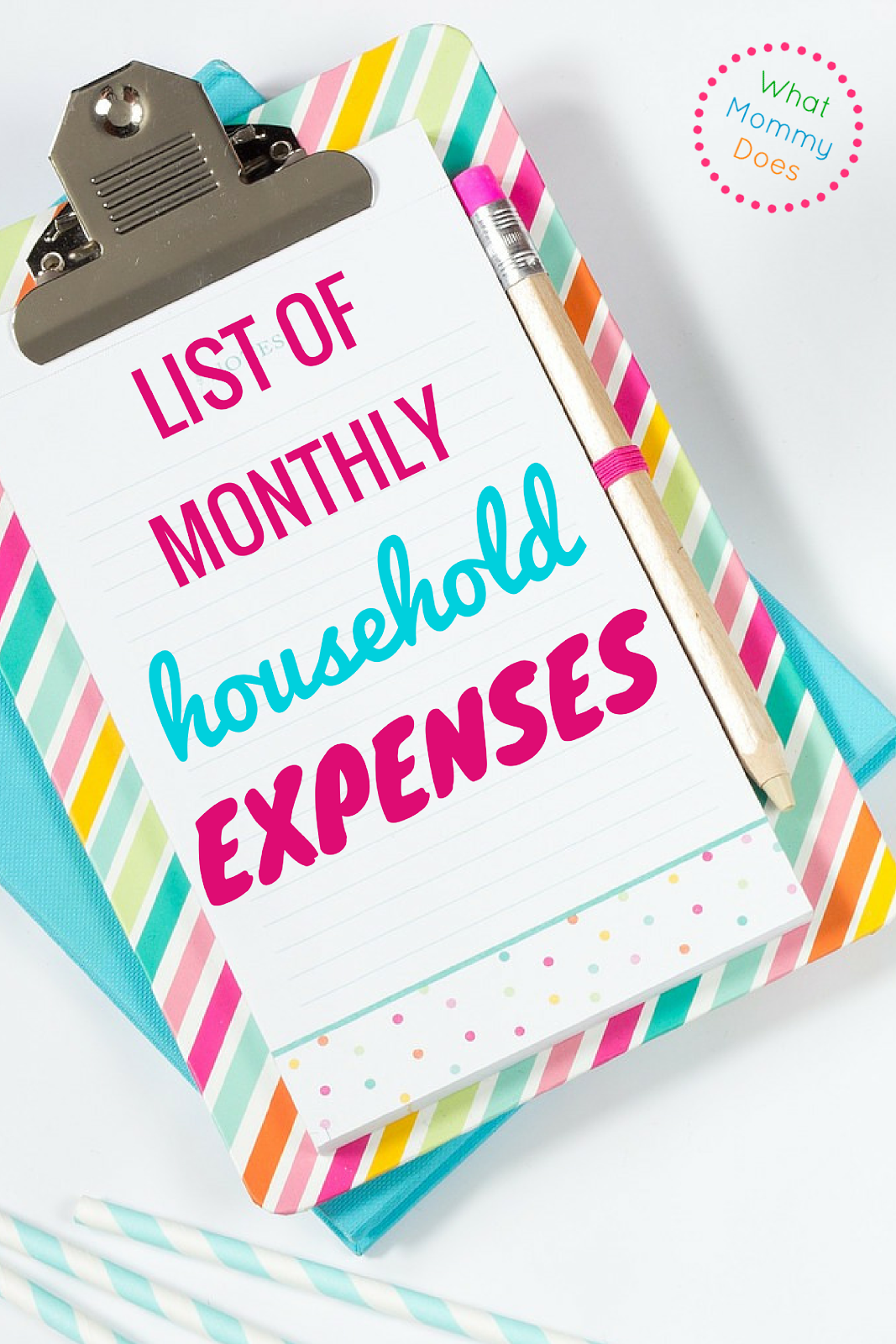 ---
RELATED READING:
5 Words That Will Save You Thousands Each Year
Where to Get Free Printable Coupons
---
I would include this typical monthly expenses list in an initial budget for just about any family.
Of course, depending on your lifestyle and preferences, you may wish to tweak this original expense listing to suit your needs.
In my professional experience, a family's average monthly household expenses include the following costs:
Auto /Transportation
Charitable Donations
Child Care
Clothing
Debt Payments
Entertainment
Groceries / Dining Out
Fitness
Gifts Given (Christmas & birthday gifts, etc.)
Hobbies
Household Maintenance
Housing
Insurance other than medical/dental
Investments
Medical/Dental
Miscellaneous
Savings
Subscriptions
Utilities
Vacation
If you want, you can go a little more in depth than these overall common expenses categories.
Depending on how detailed you want to be, each one of those budget categories can technically contain several expense subcategories.
On one hand, it's nice to see everything accounting for down to the little expenses; on the other hand, it's almost impossible to keep up with such detailed expense tracking.
It's really a personal preference, but the list above should be a good starting point.
If you're wondering, I lean towards keeping things simple and having large monthly expense categories. Otherwise I would get overwhelmed and stop budgeting altogether (which defeats the whole purpose of doing this in the first place)!
I know that when I first had my baby, I didn't have time to track our family bills down to the tiniest detail, so this overall look at our financial picture was easier for me to handle. As my baby got older and I had more time, I broke things down even further.
I like doing this sort of thing in Excel. I used an Excel spreadsheet like this one to track everything.
Click here to get my favorite Excel budget spreadsheet >>
Should Discretionary Costs Be Included in a Standard Monthly Budget List?
You could argue that a standard household budget shouldn't include some of the expense categories above, especially discretionary ones like "hobbies" or "gifts given."
But let's keep it real here – almost everyone incurs these expenses, so it's smart to go ahead and include them in your budget instead of setting your budget up for failure.
Even if you're not sure how much you spend in a particular category each month, add the line item and then start monitoring your spending.
I'm a huge fan of finding ACTUAL average monthly household expenses rather than setting an arbitrarily strict goal and never hitting it.
That's a recipe for budget frustration!
Monthly Family Expense Categories – How Detailed Should You Go?
Once you get the bare bones of your monthly budget under control, the next step is to consider what goes into each bucket.
If you have older children, consider costs you incur on their behalf, such as phone plans or car insurance. You'll need to decide if you'd like to track these items separately in your budget.
I recommend creating different subcategories for every single major expense so you can easily delete/erase it when it is no longer applicable (such as eliminating the line item for your 21-year-old's auto insurance after college graduation).
You can go as deep as you'd like with separately stated line items; the key here is to not duplicate or be vague.
Don't create a "household cleaning" category and follow it up with "cleaning supplies." You'll only confuse yourself, and if you get confused, you won't be able to follow your budget! Keep it simple to be on the safe side.
Use This List of Expenses as a Starting Point – Monthly Expenses Vary by Family
My monthly budget example above takes into account sample expenses for a family like mine. Keep in mind that your monthly household expenses list will be tailored to your lifestyle.
For instance, dog owners would have an entire category devoted to pet care costs. Also, if you have family members living with you who need assistance, you will incur costs I didn't consider.
My Top Recommendation to Get Started Quickly
If you're not keen on creating your own tracking worksheet to handle your family finances, I highly recommend starting with a template that's already ready to use.
I wrote about my favorite easy-to-use budget spreadsheet here >> The Best Budget Spreadsheet for Moms
More Money Tips & Resources
Latest posts by Lena Gott
(see all)