Several years ago, I transitioned from a stressful desk job to being to a stay at home mom.
How our family manages live on one income is probably the thing I got asked most about when friends and family learned I wasn't going back to work after my maternity leave ended.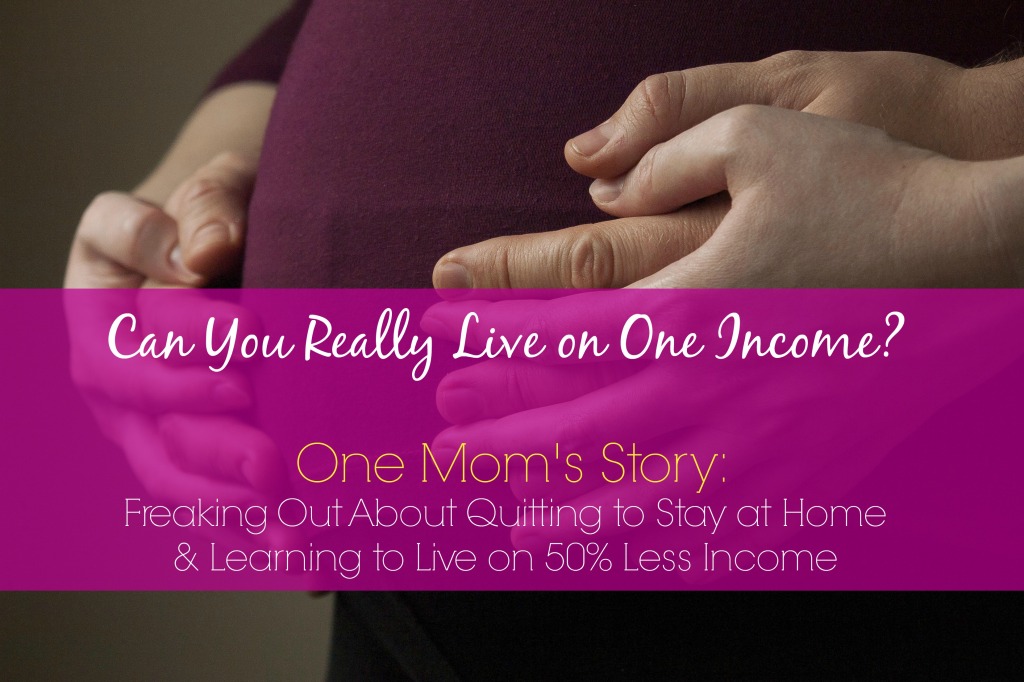 Living Beyond Our Means: Could We Ever Live on One Income?
Making the initial jump from a comfortable two-earner household without kids to a single income household with a little one was not easy. We were used to spending our money willy nilly without any pressing responsibilities to consider.
Even though I have an accounting degree, I didn't have the first clue when it came to personal finances when I was in my mid twenties.
If we had been smart, we would have never lived like we had two incomes in the first place. Instead, we spent nearly everything we had left over after retirement contributions each month (thank goodness at least we saved for retirement along the way or I'd have yet another money thing to stress out about!) on eating out, home improvements, and long weekend trips.
After working three years, we had only $500 in our bank savings account; it wasn't a pretty picture.
---
Read More >> The Best Budget Spreadsheet for Growing Families
---
Thinking About Starting a Family & Hoping to be a Stay-at-Home-Mom
We always knew we would start a family approximately 5 years after we got married. But with two years to go until that time, we found ourselves with virtually no savings to speak of other than retirement accounts (and we don't consider retirement money "touchable").
Not only did we know we wanted to start a family in a couple of years, I knew I wanted to give staying at home a shot.
So every night for a couple weeks, I sat down with our checking account and Quicken entries, trying to figure out how my husband had categorized our expenses (they were all over the place…auto fuel in with groceries, etc…but that's another story) so I could get a feel for our actual expenses.
I eventually put together a snapshot of our current financial situation with a budget spreadsheet (Here's the spreadsheet I recommend to everyone!
It's really easy to use); needless to say, we spent about what we made each month, sometimes a little more.
I really thought, "How in the world are we ever going to whittle this budget down so expenses are less than only my husband's income?!?!" It seemed like an impossible task.
How We Tested Living on One Income Before Actually Doing It
After I figured out how much money we should spend in each household category based on a single income, we started pretending we only had access to my husband's salary and saved every bit of mine.
Every pay period, we would transfer my entire paycheck to savings, even though we knew we were risking bouncing checks.
We wanted to make the trial run as realistic as possible. It was super difficult to resist the urge to spend that extra money like we used to, but we stuck with it. Asking myself these five words every time I was faced with a buying decision helped me control myself.
We did this for approximately a year and a half before our first child was born, tinkering with the one-income budget along the way, and transferring money from savings into checking when we absolutely had to in order to cover large expenses / overspending on occasion.
---
Updated for 2018 >> How I Make $5,000+ per Month from My Blog
---
Testing What We Practiced, a $10 Christmas + Getting a Baby for Christmas
We made it to my daughter's birth date with a fairly good idea that we could probably make it on one income. Until that time, we had only practiced and were successful some months but failed the test in other months. From the day she was born, I felt the pressure to perform FOR REAL.
My paid maternity leave lasted 12 weeks. After that, we were on our own. It wasn't easy. We had lots of months where we had zero cushion in our budget.
I was checking the bank account every day, monitoring how much money went in and out and worrying about whether we'd be able to afford any surprises that popped up. I found coupons and kinda went off the deep end (I even went so far as to organize my coupons based on the aisles of my favorite grocery store for easier shopping because I was couponing there so much!)
I purchased all our groceries and household goods only when I could get them for at least 50% off, and we cooked meals based on what we had on hand from couponing instead of purchasing food based on what we felt like eating that week.
Our daughter was born in late November, and we were so scared about not being able to get by on one income that we had a $10 Christmas. We didn't go anywhere or have a real Christmas dinner.
All we did was buy our baby a new toy. And we put her under the Christmas tree to take a picture because she WAS our present. :=) I'll never forget that.
Fortunately, we didn't end up needing any major car or home repairs in the first 8 months or so of me staying at home. We stuck to the budget, and as my husband received raises each year, we were able to loosen our budgeting belts just a bit.
Budgeting & Disciplined Spending
I have been in a place of financial stupidity and want others to learn from my mistakes. I learned that being successful with money management boils down to self-discipline and a desire to make conscious decisions about where your money is going.
If you can see yourself in my story above and want to give living on one income a try, the #1 thing I recommend you do is to focus on the simple act of setting up a budget.
Making a budget is a good starting point because you need to know what income and expenses you're working with before you make a decision to stay at home or determine what changes to make if you're not quite ready yet.
If you are ready to figure out whether or not you can live on one income, here's the budgeting spreadsheet I recommend to all moms when starting this journey. It's a an excellent budget in Excel!
More from WhatMommyDoes
Latest posts by Lena Gott
(see all)