Every year, I vow to get my Christmas shopping done at least a couple weeks before Christmas so I don't have to rush around a few days before December 25th finding last-minute presents.
I did a little bit better than usual last year, but still found myself at the mall two days before Christmas looking for a couple of things.
What Will It Take To Get My Christmas Gift List on Track?
This year's gonna be the year I achieve my goal. I can feel it. No more rush shipping packages to my nieces and nephews because I waited too long to mail their gifts!
The first step in getting Christmas under control is making a Christmas gift list. I like using a Christmas-themed printable worksheet for this. I couldn't find the link to the one I used last year, so I did another search and found several I like.
I thought I'd share them in case anyone else needs to keep track of Christmas gift progress!
Free Printable Christmas Gift List Worksheet Templates
Here are four Christmas shopping checklists to help keep your holiday spending under control and organized!
Simple Christmas Shopping List – Sometimes I like to keep things simple. This shopping list has 10 lines to keep track of my purchases quickly – I'm using it to brainstorm what to get for my nieces & nephews this year! Click on the link or image below to grab it for yourself!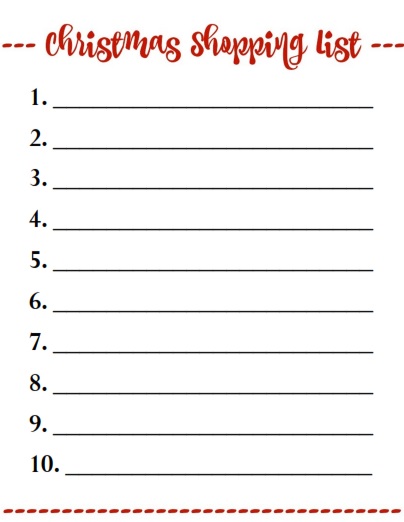 Should I Go Electronic for Christmas?
It just occurred to me there are probably apps for this. I love my iPhone, but I think I'll stick to the paper and pencil method this year for my Christmas shopping list. No need to technologize everything in my life!
I hope you're able to use one of the planners above to keep on top of your gift planning this year.
Have you completed your Christmas shopping?
If not, you might want to check out the AWESOME daily deals Amazon is offering throughout the holidays! >> Amazon 12 Days of Deals
If you are a mom, don't forget to first snag your FREE MONTH TRIAL of Amazon Prime! There's nothing better than ordering gifts and supplies from the comfort of your own home AND getting them delivered to your front door in 2 days for free. (let me know if this deal expires, and I'll see if I can round up a replacement!)
More Christmas Goodness from WhatMommyDoes
Latest posts by Lena Gott
(see all)